Automated Monitoring and Alerting System for Servers, Applications, Environments and Networks
The NIGHTWATCH Network Enterprise is a suite of software and optional hardware components designed to allow you to quickly build islands of failsafe notification around the most critical servers in your network.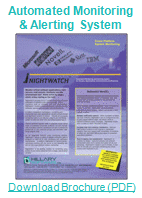 Provide 24 x 7 Monitoring & Notification
Cost effectively monitor critical applications, software, web servers, mail servers, hardware and the environment -- 24 hours a day, seven days a week! Notification alerts arrive by pager, email, snmp, syslog or the web. Nightwatch eliminates down time and critical system failures.
Web-enabled Central Console
Browse and see the status of all your servers...from anywhere in the World. NIGHTWATCH is a web-enabled central console which collects, filters, and displays events from all the important servers and devices in your Enterprise.
Seamlessly Works With Any Server or Any Operating System
NIGHTWATCH reaches out to gather the notification requests from all your UNIX, Windows, and other legacy servers creating a tru cross platform monitoring system. NIGHTWATCH accepts FTP alerts from your legacy systems running proprietary operating systems such as HP3000, IBM AS400, and DEC VMS. Our UNIX software libraries enable UNIX programmers to detect software events in the UNIX world. Our legacy software libraries (HP3000, and VAX VMS) give your machine operators the tools needed to detect and trap software events on these platforms. NO CLIENT SOFTWARE NEEDS TO BE LOADED!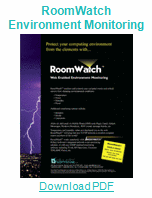 RoomWatch Environment Monitoring
RoomWatch monitors and protects your computer rooms and critical servers from changing environmental conditions and works seamlessly with Nightwatch® or any SNMP-enabled monitoring software including Tivoli, HP Openview, Unicenter TNG, BMC Patrol, etc.